Orthopaedics
Hurstville Private Hospital GP Bulletin
April - May 2019
---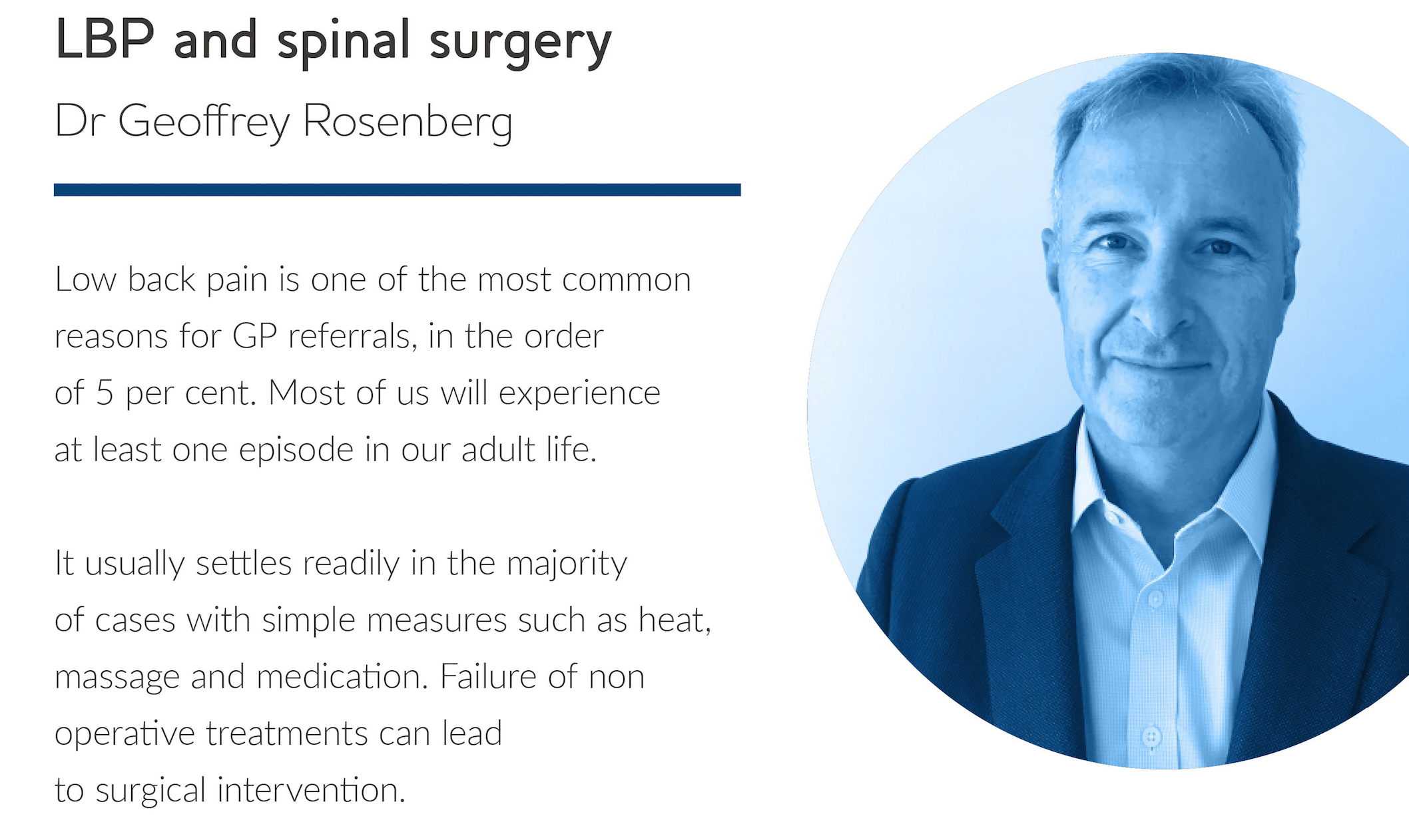 The majority of episodes of low back pain (LBP) settle with non operative treatments. These involve physical therapies, medications and steroid injections.

Surgery is a failure of non operative treatment.
Occasionally patients can present with certain symptoms which warrant prompt surgical intervention.
These include:
Cauda Equina Syndrome
Progressive neurology
Severe, intractable pain
Significant neuropathic symptoms.
Aims
The aims of surgery are to achieve - pain relief, nerve decompression, stabilisation of the spine.
Most spinal surgery involves nerve decompression, be it discectomy or laminectomy. One can expect predictably good results with such surgery in the majority of cases.
There are some instances however when fusion is indicated. We recognise that the spine is unstable or will become unstable with decompression. In particular, with better understanding of the natural history of certain spinal conditions, as well as better experience, we have broadened our indicators for performing fusion. Indeed, there has been a 200% increase in spinal fusion in the last 20 years.


Indication for Fusion

Spondylolisthesis
Degenerative scoliosis
Facet joint disruption (cysts, vertical orientation, widened)
Large recurrent disc protrusion
Laminectomy above a long fusion
Extensive decompression (multilevel).

To stress, not all of these are absolutes, but rather dependent on a surgeon's preferences and experience.


Options

Traditionally, fusion was performed via a posterior approach, using pedicle screws alone.
Today it is performed via a variety of different approaches:

Anterior - usually a retroperitoneal approach from the left
Advantages: Larger space for grafting, excellent restoration of sagittal and coronal balance, less muscle disruption, no disruption of facet joints, ? less adjacent segment problems.
Disadvantages: Access surgeon, not for significant deformity, osteoporosis, obesity, vascular disease, often needs "backing up" with posterior fixation, sympathetics injury - retrograde ejaculation.
Lateral - a trans psoas or anterior to the psoas approach
Advantages: Minimally invasive, no direct risk to vessels, obesity less of an issue, avoidance of sympathetics, no need for access surgeon, powerful correction of deformity.

Disadvantages: usually needs backing up.
These options should be modified to the spinal condition as well as surgeon preference and experience.
Still the majority of spinal fusion is performed via posterior techniques, particularly when it is necessary to directly decompress nerves.

Overall, the literature would suggest that an expected outcome when performing fusion for back pain is 60-80% improvement in symptoms.
Regularly a fusion is performed for "housekeeping" in that the primary problem is stenosis or disc protrusion causing leg pain but there is instability present. In other words, back pain is not the major issue, but the spine needs stability.
This is the best case scenario with predictably good results.
Long term, there will be extra force and load across adjacent segments resulting in degeneration and pain. Overall there is a 10% chance of this occurring over a 10 year period, such that extension of the fusion may be required.

Anterior fusion
Posterior fusion

Lateral fusion
Lifestyle Changes
Smoking, obesity and lack of regular exercise will undermine the results of surgery.
Recommended changes include: weight loss, regular low impact exercise (swimming, pilates, walking, bike), core strengthening exercises, quitting smoking, work modification (avoid repetitive bending, heavy lifting and twisting).
The Future
Assistive technology such as Robots and Navigation are becoming accepted standards of care. They lead to predictable work flows, reproducible results and improvement in pedicle screw placement. It also can mean less blood loss, operating time, soft tissue dissection and radiation exposure (less need for x-ray).

An increasing problem is the ageing population, the presence of osteoporosis and the demand for treatment in a first world environment.

To summarise, spinal fusion is rewarding, satisfying surgery. It is highly beneficial if performed skilfully and appropriately.
---
Dr Geoffrey Rosenberg, MBBS, FRACS (ORTH) FAORTHA
Dr Geoffrey Rosenberg completed orthopaedic training in the UK and Sydney. His major interest is spinal surgery, primarily adult degenerative spinal conditions. This includes reconstruction, arthroplasty and minimally invasive surgery. Dr Rosenberg also performs Robotic Spinal Surgery. He performs arthroplasty of hip and knee and arthroscopy. He has been on the federal training committee of the Australian Orthopaedic Association for the last 10 years.
Dr Rosenberg also regularly participates in humanitarian missions to the Pacific with Orthopaedic Outreach, as well as Africa with Australian doctors for Africa.
Areas of Sub-Specialty/Special Interests:
Spinal Fusion
Minimal Invasive Surgery
Discectomy
Laminectomy
CONTACT DETAILS
T (02) 9588 6399
Musculoskeletal Institute
Hurstville Private Hospital
Suite 4, Level 3
37 Gloucester Road
Hurstville, NSW, 2220
---